When Is the Re-Enrollment Deadline?
The deadline for re-enrollment is March 23, 2023. Please follow the steps outlined below to secure your child's spot for the next school year.
What About the Re-Enrollment Fee?
The re-enrollment fee will be credited against tuition (if paid in full) for the 2023–2024 school year or by the fourth quarter (if you are paying in installments).
How To Re-Enroll
(Important: Re-enrollment in PowerSchool only works from the Parent Portal on a desktop or laptop. Re-enrollment does not work through the PowerSchool Smartphone App.)
1. Log in to PowerSchool Parent Portal (if you forgot your PowerSchool Parent Account password username click here to recover it.
2. Click the Re-enrollment button (see below)
3. Enter the re-enrollment information for your child
4. Select "YES", "NO", or "Unsure"
If you select YES
Please read the enrollment contract
Check the "Agree" checkbox
Select your payment plan
Click "submit"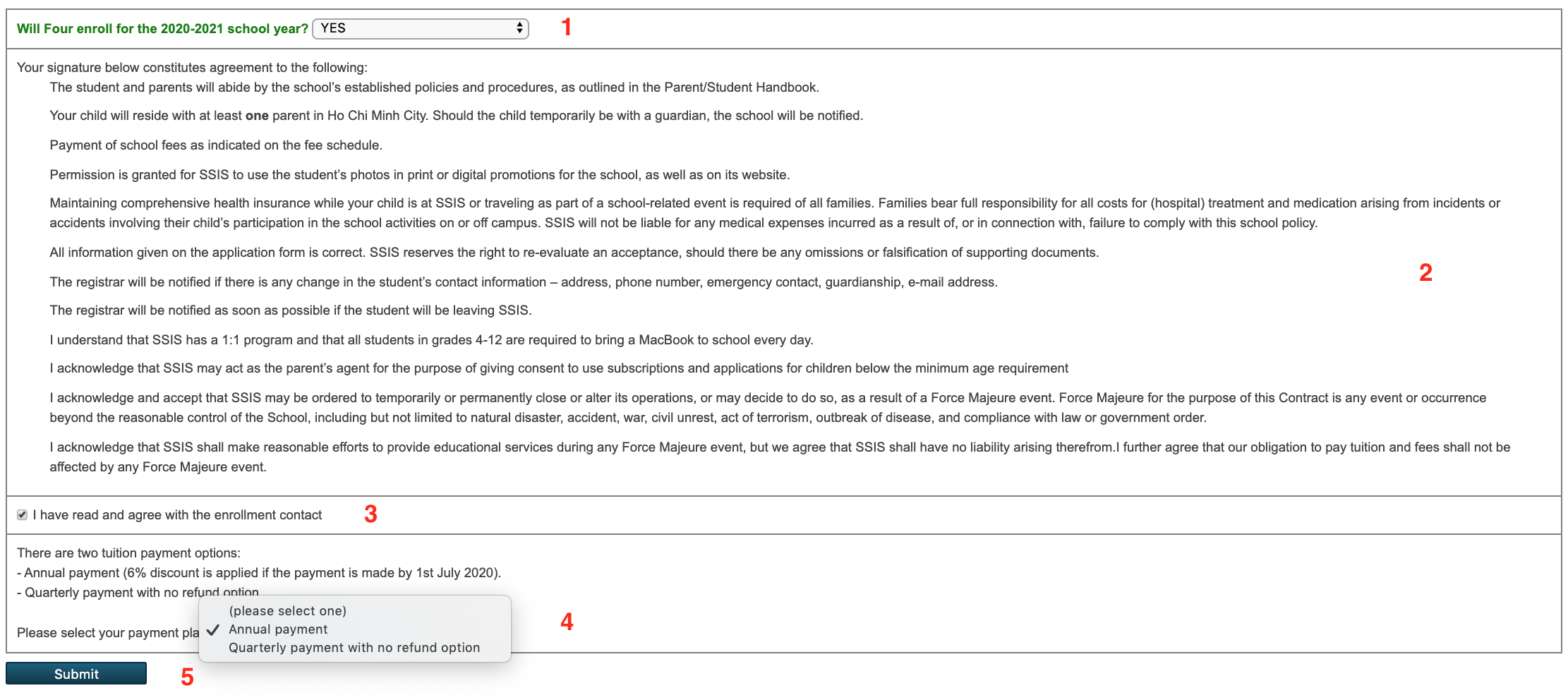 If you select "NO"
Please answer the questions, following the steps below.
Click "submit"

If you select "Unsure"
Please explain your circumstances.
Click "submit"

Re-Enrolling Multiple Children
From the top left side of the PowerSchool Parent Portal (below the logo), click on your next child's name. Repeat the steps from above. 
Questions About Re-Enrolling
If you have general questions about re-enrollment, please contact the registrar, Ms. Tram @ registrar@ssis.edu.vn
Should you have more in-depth questions concerning re-enrollment or would like to discuss your circumstances, please contact our Director of Admissions, Ms. Katie Rigney-Zimmermann, +84 28 54130901 ext. 31140.
Questions concerning the tuition and fees structure and payment should be directed to the Associate Head of School for Finance and Operations, Ms. Wai Mun Fong.​​​​​